Diamond Jubilee Celebrations at Roman Road

- 11 Jun 2012


The Diamond Jubilee Celebrations started at Roman Road on Sunday 3rd June when we took part in the Big Lunch and shared a faith buffet after the service.

On Monday evening a number of us joined with friends from the parish church St Johns along with our local MP and councillors for a short service and to light the beacon for Failsworth in the church grounds at 10.15pm before the Queen lit the final beacon at the end of the Jubilee concert at 10.45pm.

Our WOW group for vulnerable adults and their carers carried on celebrating the Jubilee with a party on Wednesday afternoon.

Our Diamond Jubilee celebrations culminated on Friday 8th June with an all day celebration for seniors which was fully booked with 30 guests. On arrival at 10.00am guests were greeted with a drink and biscuits and chance to chat with friends, new and old.
After a welcome our guests puzzled over quizzes and shared their memories of the Queen and the Royal Family.


While lunch was prepared we showed a DVD in the worship area about the Coronation and the early years of the Queen's reign.


Our guests enjoyed a typically British roast chicken dinner with all of trimmings followed by Jubilee trifle or Eton mess.


After lunch we were entertained by Nicola Markham from Inspired Productions with a 'Blast from the Past'. Nicola joked, tap-danced and led sing-a-longs  and finished by leading everyone in a rousing rendition of Land of Hope and Glory.


After all the singing and flag waving a reviving cup of tea was needed which was served with Jubilee cupcakes and crown biscuits and we rounded off the day with the Jubilee prayer commissioned by the Queen and used in the St Pauls service. Guests went home with a gift of a Jubilee New Testament.


Every one said how much they had enjoyed the day and it was a fitting end to a week of special celebrations.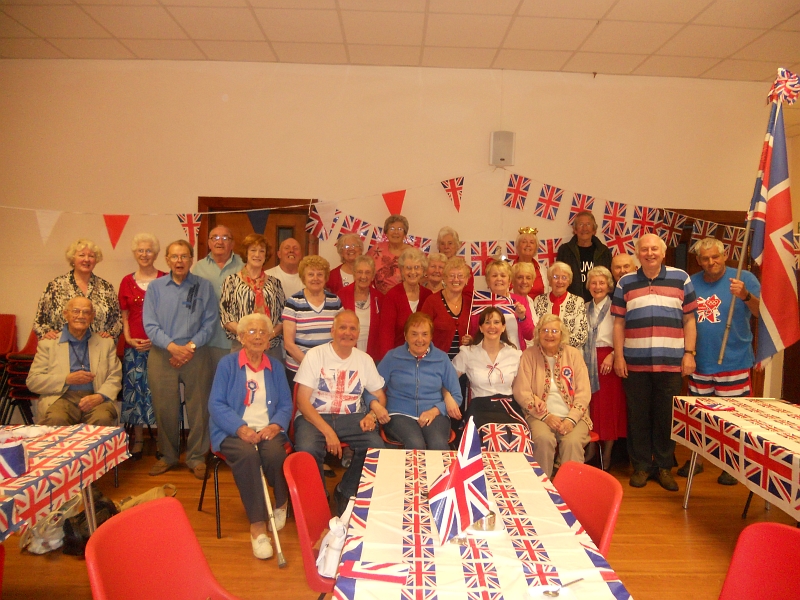 ____
For more pictures of all our Jubilee activities check out our Jubilee 2012 Gallery.